Welcome to CR#62 Trestle board for the year 2009, masonic year 6009.

  Castle Rock Lodge held it's first meeting the this new year on the stated meeting nite for january of 2009 .  We had an excellent meeting and ALL officers were present with the exception of the senior steward. Fellowship was held BEFORE and AFTER the meeting.  Worshipful master Pat planned Pizza and Root beer for dnner and fellowship.  I am very smug to announce that so much fellowship was experienced after the meeting that the brothers had a difficult time reverting to the tradition of the toastmast.  The evening was simply great!

  During the meetingt worshipful brother Ray McDermott shared that Longview #263 was sponsoring the past masters of Castle Rock Lodge for the Past masters' dinner to be held February 21st @ Kelso Lodge.  Dinner at 6 pm and the past masters meeting @ 7:30pm.  Past Masters of Castle Rock, Get your Reservation slips into brother Dale Ashley, and write FREE-COURTESY OF LONGVIEW #263!

  Next Stated Meeting will be February 16th.  This is an important meeting.  We are having a Theme Meeting.  The Jobies will be hosting a BOX LUNCH SOCIAL DINNER.  The Brothers will Bid on the dinners to help the Jobs' Daughters.  The Lodge will be having a THEME NITE to COMPLIMENT The jobs Box lunch. The Theme is  " CHUCK WAGON NITE"  

Please dress accordingly to a western theme.  Cowboys and native Americans.  Hey, you all know why I didn't say "indians".  Virginia is a Card Carrying Native American and she and her family tells me that "INDIANS" are found on the Indian continent.  Native Americans  are from North America.  Wait a minute, My Father, as many know, was an Iriquois and he said the same thing.   What the heck, it's okay then and I can say, Dress as Cowboys and Indians!!  

  There will be a PRIZE voted by the brethren in Attentance to the BEST DRESSED BROTHER!  I think all in attendance will have fun!

   Castle Rock Lodge is planning two visits in the near Future.  The first to the Morton Lodge, #204 and the second to Ilwaco Occident #99.  Stay tuned for more information.

HEY BROTHERS, I HAVE TWO ITEMS ON MY PLATE TO SHARE.

#1.  LOA MEETING THIS SATURDAY, VALENTINES DAY, THE 14TH.  THOSE OF YOU WHO REMEMBERED AND TOOK CARE OF YOUR SWEETIE, CONGRATS.  THOSE WHO FORGOT, REMEMBER THE SWEETHEART DINNER @ KELSO LODGE HOSTED BY SCOTTISH RITE AND LET THEM  KNOW WHO IS COMING.  JERRY COONEY, RICHARD HALLET, DAVE FOSKETTE ARE GO TO GUYS ON THIS... SORRY DAVE, BUT YOU'RE THE SECRETARY, RIGHT?  SO LOA MEETING @ 9 AM  AND SWEETHEART DINNER @ 6 PM.

#2.  BRAG BRAG BRAG BRAG.  MY MIDDLE SON DOES GOOD!  HE DONE REAL GOOD!!  PARDON THE ENGLISH, BUT I HAVE TO GET THE BUTTONS RESEWED ON MY SHIRT.  STRATE HAS WON/BEEN AWARDED THE CAREER COUNSELOR SOLDIER OF THE YEAR.  THIS IS A BIGGIE.  A REAL BIG BIGGIE..  NOW THE PART THAT MEANS EVEN MORE TO VIRGINIA AND ME, (KIDDING-STRATE BEING RECOGNIZED IS HUGE TO US!) THE ARMY IS FLYING US OUT TO THE PENTAGON WHERE THE SECRETARY OF THE ARMY WILL PRESENT THE AWARD.  WHO KNOWS WHO ELSE WILL BE THERE?  NAAAAAaaaaaaA, OF COURSE I'M NOT GOING TO LET THIS SLIP TO MY CONGRESSMAN AND MY STATE SENATORS.  WHAT WOULD BE THE POINT?  THOSE WHO KNOW HOW TO GOOGLE, YOU CAN TYPE IN CAREER COUNSELOR SOLDIER OF THE YEAR.  OR YOU CAN TYPE IN STRATE FLESSAS.  I TRIED TYPING IN "VERY PROUD MOM AND DAD", BUT IT DIDN'T GET ME WHERE I WANTED TO GO.

OR YOU COLD

The chuck wagon nite was GREAT!   It started a little bit late since brother secretary was a bit confused on his time.  A great time was had by all however.    The Jobies auctioned off some great meals and all the brothers got something.  when te meals were gone, there was still vittles for all!

  Thevhighlight of the costumes was a close contest between brother Jim Newman and "no specials" Herald Mackinster.   Brother Jim was resplendant as he describes a "MUTTON PUNCHER"  He said it was nice that he didn't have to change his every day Mutton Punching clothes to come to Castle Rock.   The contest winner was Harold.  We had teased W.B. Harold that he would come in his suit as the undertaker. He surprised us all when he emerged from the preparation room door in a Native American Medicine Man costume.  KUDOS brother Harold for getting into the spirit of Masonry!!  For his efforts he was awarded a BAG full of Crap!

  Fun was had by all !! 

  The next Stated meeting will be STEP UP NITE.

VWB:. JERRY SCHWENK HAS ANNOUNCED THAT THE OFFICIAL COMBINED DISTRICT MEETING WILL BE HELD AT THE VANCOUVER MASONIC CENTER APRIL 25TH @ 6PM.  THE DINNER WILL BE $10.00. 

  THERE WILL ALSO BE  RAFFLE TICKETS AVAILABLE FOR A "SPECIAL PROJECT" QUILT.  MOST WORSHIPFUL MASTER DOUG TUCKERS WIFE HAS MADE A QUILT FOR DIABETES PROJECT.  WE DON'T KNOW WHAT THE TICKETS WILL BE BUT THE MOST WORSHIPFUL ENCOURAGES ALL MASONS TO SUPPORT THIS EVENT

THE TWO EA DEGREES SCHEDULED FOR SATURDAY, MARCH 7th HAS BEEN RESCHEDULED TO THE NEXT REGULAR STATED MEETING, MARCH 16TH.

LAST NITE WAS ILWACO #99 OCCIDENT LODGE STATED MEETING.  I WAS IN ATTENDANCE AND INFORMED THE MASTER OF THE LODGE, LEIF, AND THE SECRETARY, JIM TONGUE THAT LONGVIEW AND KELSO WAS PLANNING A JOINT VISITATION NEXT MONTH APRIL 2nd, OR MAY. 7th. WE DISCUSS THISAT OUR NEXT MEETING AND CONFER WITH LONGVIEW #263 MASTER RAY McDermott. 

  TONITE I WILL BE HEADING NORTH TO OLYMPIA #1 AND BRING GREETINGS FROM CASTLE ROCK TO OLYMPIA MASTER DAMIEN. 

  TOMORROW WILL FIND ME BRIEFLY AT THE MORNING COFFEE IN KELSO AND THEN I'LL BE HEADING SOUTH TO VISIT RIDGEFIELD DAYLITE.   I'LL POST A REPORT ON THESE VISIT LATER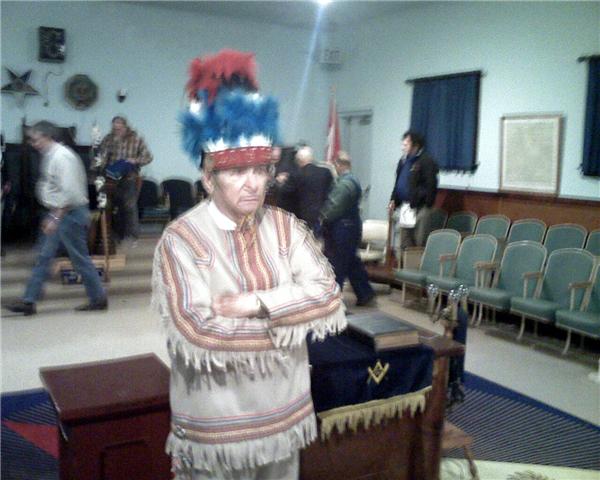 HEEP BIG MEDICINE CHIEF HAROLD! 

WHO SAYS YOU CAN'T TEACH A SPRING CHICKEN NEW TRICKS?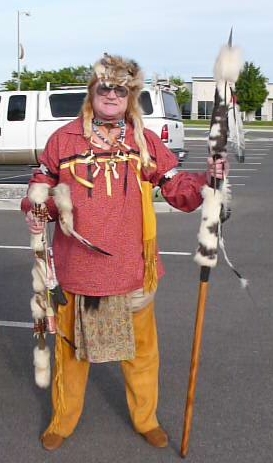 CHUCK WAGON NIGHT WENT VERY WELL!  THANKYOU HAROLD FOR BEING A GOOD SPORT AND PLAYING ALONG. THE JOBS' DAUGHTERS BOX LUNCH SOCIAL WENT VERY WELL AND IT IS REPORTED THAT THEY HAD AN INCOME OVER $300 FOR THE EVENT.

  MASONRY IS ABOUT MAKING GOOD MEN BETTER, REACHING OUT AND MAKING A POSITIVE IMPACT IN THE WORLD, BUT IT IS ALSO ABOUT HAVING FUN!  I SINCERELY HOPE THAT DURING MY BRIEF TIME AS MASTER OF CASTLE ROCK LODGE WE IMPLEMENT PROGRAMS THAT IMPACT POSITIVE CHANGES AND ENJOY LIFE WHILE IMPROVING IT.  THANK YOU TO EVERYONE WHO UNDERSTANDS THIS MESSAGE AND JOINS IN!  THANKYOU!

BROTHERS, IN THE LAST FEW DAYS I HAVE BEEN A TRAVELING MAN.  LITTLE FALLS,  ILWACO #99, OLYMPIA #1, RIDGEFIELD DAYLIGHT #23?, AND THOSE SOB'S RAINIER #27 (SOUTH OF BORDER).  ADDITIONALLY GREAT IDEAS HAVE BEEN GLEANED BY THESE VISITATIONS AND I HOPE TO SHARE MANY OF THEM AT THE NEXT LODGE MEETING.   BROTHERS, I HAVE TO SHARE THAT ALTHOUGH THIS HAS BEEN VERY DEMANDING TO VISIT SO MANY LODGES IN AS MANY DAYS, IT WAS MOST REWARDING IN WAYS TO NUMEROUS TO COUNT.  EVERY BROTHER SHOULD TAKE THE OPPORTUNITY TO VISIT OUR BROTHERS LODGES IN OUR DISTRICT, OUR STATE, AND OUR NEIGHBORS NORTH SOUTH AND EAST.  YOU'LL HAVE TO DO A LOT OF SWIMMING TO VISIT THEM TO THE WEST, BUT SHOULD THE OPPORTUNITY ARISE, GRAB IT WITH BOTH HANDS!

  AN EXCITING PIECE OF NEWS I WANT TO SHARE ON THE TRESTLE BOARD IS THAT RIDGEFIELD DAYLIGHT LODGE HAS ACQUIRED THE GRAND MASONIC FLOAT, AND WILL BE STORING IT IN THEIR JURISDICTION, DISTRICT 19.  THE OPPORTUNITY IS UNPRECEDENTED.  IN THE PAST LODGES WERE CHARGED A RENTAL FEE, AND ALL OTHER FEES ASSOCIATED WITH THE FLOAT.  HOWEVER, NOW THERE IS AN OPPORTUNITY FOR OUR LODGES TO USE THIS FLOAT AT COST!  THIS HAS PLACED WITHIN OUR REACH THE POSSIBILITY OF MAKING A GREATER PRESENCE FELT AND SEEN IN OUR COMMUNITIES.  HOW MANY OPPORTUNITIES HAVE WE MISSED IN THE PAST?  NOW IS THE TIME FOR US TO PLAN FOR FURTHER VISIBILITY IN OUR COMMUNITIES.  I CAN SEE WHERE THIS WILL BRING IN NEW MEMBERS WHO WILL FURTHER OUR MASONIC LIGHT.   WHAT APPLICATIONS CAN YOU THINK OF?  A WHOLE NEW DOOR HAS OPEN TO US WITH THIS ADDITION!

W.B. PAT AT THE ANNUAL COMMUNICATION IN WENATCHEE

STATED MEETING - - - MARCH 16TH  

  LODGE WILL OPEN ON THE EA DEGREE.  WE HAVE PLANNED ON TWO DEGREES THAT NIGHT.  THERE WILL BE OUR USUAL MEET AND GREET BEFORE LODGE, COFFEE & CONVERSATION, LODGE BUSINESS MEETING, THEN FELLOWSHIP AFTERWARDS.  WE WILL BE ENJOYING ICE CREAM DURING FELLOWSHIP.   ALL EA'S AND FELLOWCRAFTS ARE CORDIALLY INVITED TO ATTEND! 

  DAVE FRAIENBERGS SON <JOSH< HAS BEEN DEPLOYED AND HIS EA WILL BE POSTPONED UNTIL HIS RETURN.  LET US REMEMBER THIS  MASON CANDIDATE IN OUR PRAYERS, LETTERS, AND SUPPORT!

  SW. ROB MALIS, - JW. JEFF, - SD. BILL, - AND POSSIBLY BROTHER DAVE F. WILL HONOR US BY SHARING TALES FROM THEIR PARTICIPATION AT THE WARDENS CONFERENCE..

   SECRETARY RICHARD HALLETT HAS BEEN QUITE ILL AND HIS ATTENDANCE IS QUESTIONABLE.  WE MAY HAVE TO ASK A BROTHER TO STEP UP AND FILL HIS SHOES.

   A LETTER TO THE OTHER CLUBS AND ORGANIZATIONS IN THE AREA IS SCHEDULED TO BE READ.  THIS IS CONCERNING OUR EFFORTS TO HAVE A CASTLE ROCK #62 SIGN POSTED AT THE ENTRANCES OF THE CITY.  THIS IS ONE OF OUR SPEARHEADS TO MAKE OUR PRESENCE KNOWN AND POSITIVELY FELT IN OUR COMUNITY.

   RICHARD OR GEORGE ROBERTS IS POSSIBLY GOING TO REPORT ON OUR BIKES FOR BOOKS PROGRAM.

   RICHARD HAS ALSO REPORTED TO ME THAT THE JOBE'S DAUGHTERS LUNCH BOX SOCIAL NETTED OVER $300.  HOPEFULLY WE WILL HEAR THE EXACT AMOUNT AT MONDAYS STATED.  THE JOBE'S EXPRESSED THEIR HEARTFELT THANKS FOR EVERYONES SUPPORT!

  I  AM  HOPING FOR A GOOD TURNOUT BY THE BROTHERS.  

The joint visitation to Ilwaco was excellent.  11 brothers  from Longview and Castle Rock lodge traveled the distance to make the visit.  The dinner was A $6.00 "donation"  for the Eastern Star.  The pictures show it all.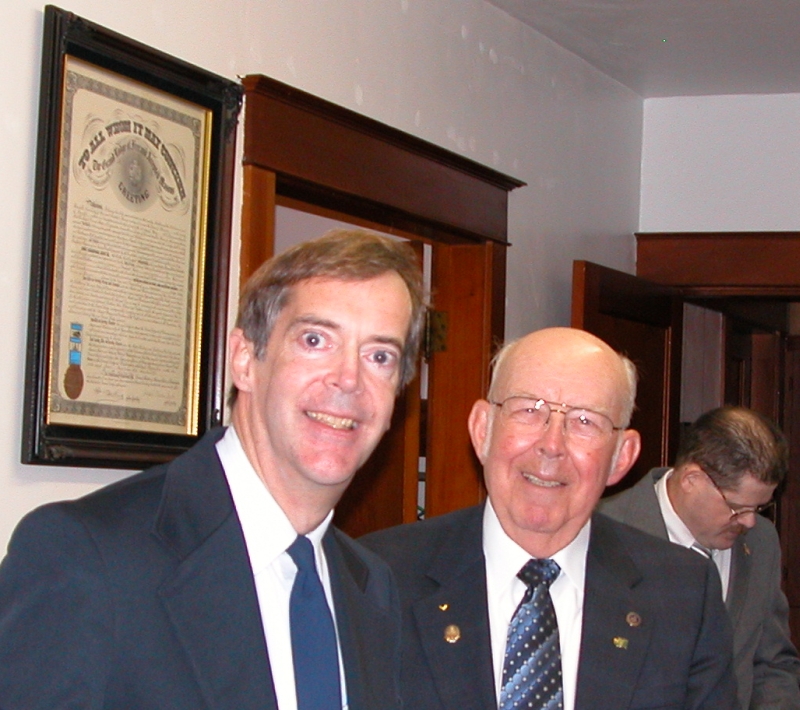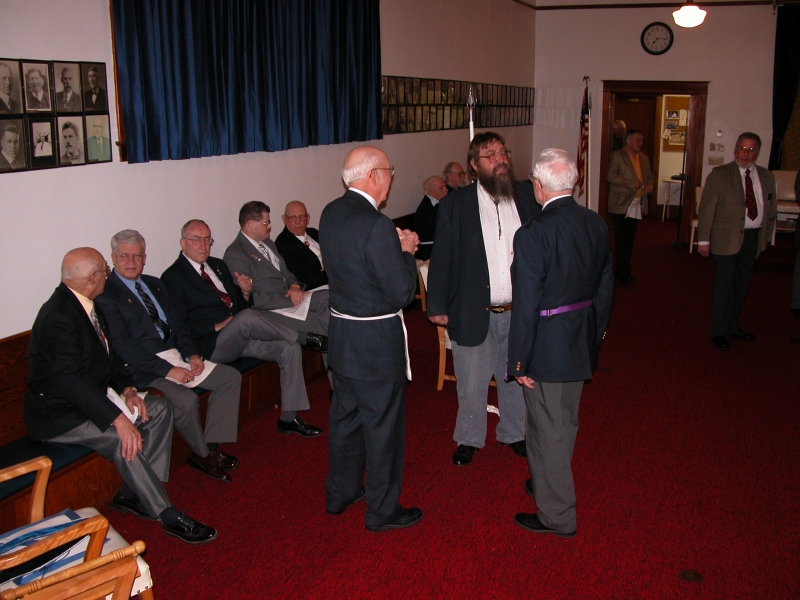 WORSHIPFUL MASTER LEIF VISITS WITH THE BROTHERS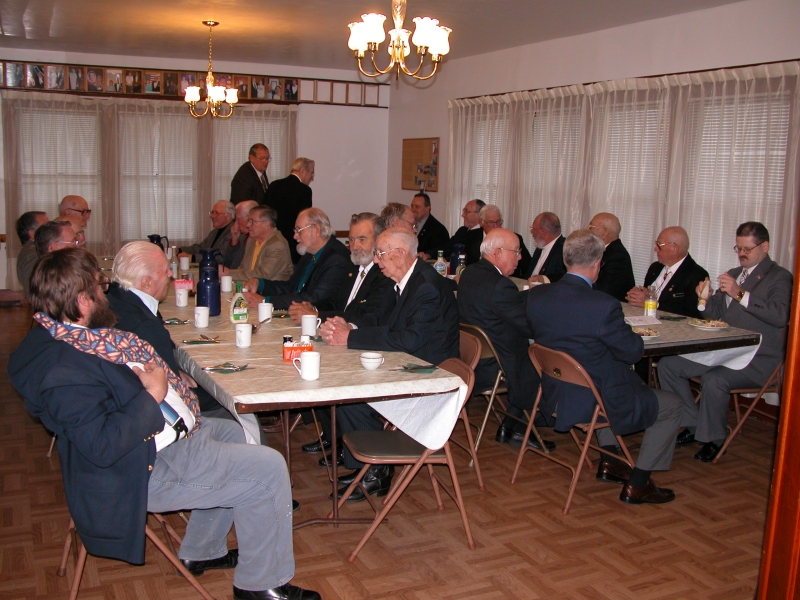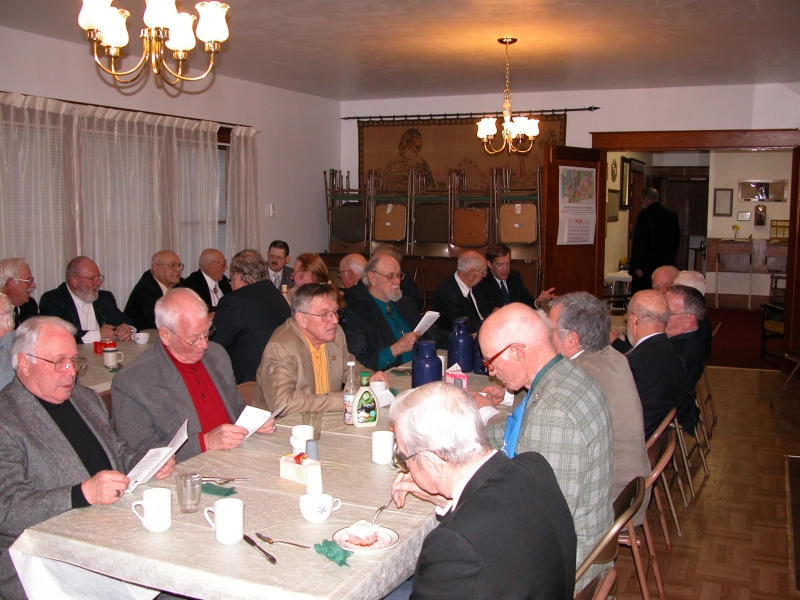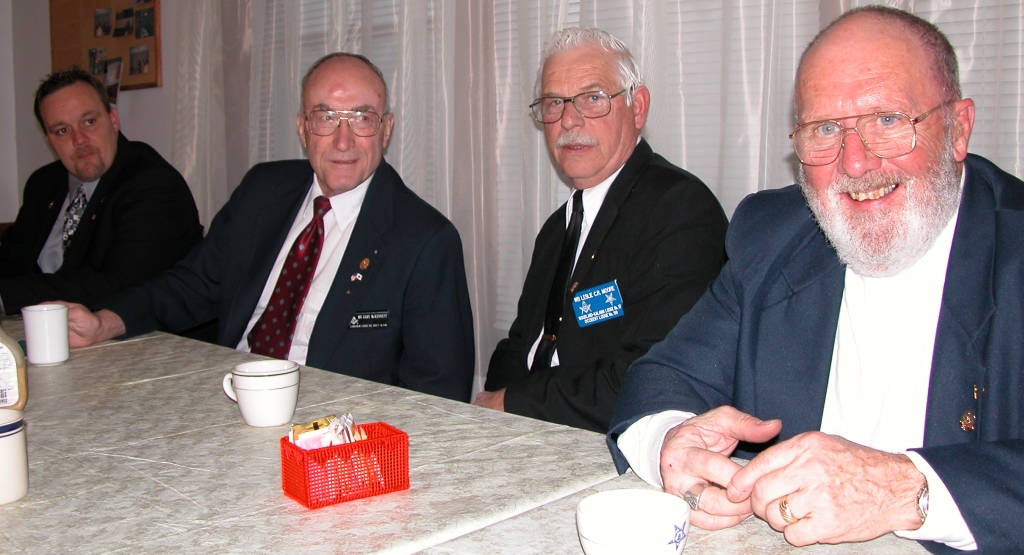 A GOOD TIME WAS HAD BY ALL.  GOOD FOOD, GOOD BROTHERS, GOOD FRATERNALISM

CASTLE ROCK #62 HAS AGREED TO A REQUEST TO HOST A COURTESY EA DEGREE ON THIS DATE, SATURDAY THE 10th, @ 9 am   ALL BROTHERS AVAILABLE  ARE REQUESTED TO ATTEND AND WELCOME THIS MAN INTO MASONRY.

  THERE IS ALSO A L.O.A. MEETING.  I KNOW THIS COFLICTS BUT OUR LODGE WILL HAVE A REPRESENTATIVE PRESENT.

HELLO BROTHERS!  THE FOURTH IS BEHIND US ANDTHE FAIR IS RAPIDLY APPROACHING. AT THIS POINT IN TIME, WE STILL NEED ABOUT 20 POSITIONS.  PLEASE SPREAD THE WORD THAT WE NEED HELP.  SEVERAL BROTHERS HAVE STEPPED UP TO THE PLATE AND ARE WORKING SEVERAL SHIFTS.  THIS IS AN IMPORTANT FUNDRAISER FOR CASTLE ROCK AND DISTRICT 18.  THIS WILL KEEP OUR DOORS OPEN, ASSITS CONCORDANT BODIES, AND FUND OUR SCHOLARSHIPS, BIKES FOR BOOKS, AND THE CHIPS PROGRAMS.

  ALSO REMEMBER THAT WE HAVE A GREAT DEAL OF FUN, SATISFACTION, AND EVERYONE WHO WORKS GETS FED!  NO ONE GOES AWAY HUNGRY OR UN-FULFILLED!

  CONTACT ME, WB RICHARD HALLET, VWB DAVE FOSKETT WITH THE POSITIONS, TIMES, AND DAYS THAT YOU CAN HELP

  A BIG BIG THANKYOU TO EVERYONE!

AUGUST 8TH

HELLO FROM WASHINGTON DC BROTHERS. The fair is behind us.  As most of you know, I had to leave Saturday afternoon, Aug. 1st for DC once again.  This time the National Ceremonies were not Cancelled due to an urgent world problem.  The awards presentation went off great.  We filed a special waiver to take pictures in the Hall of Heroes successfully!  Normally it is a class 1 felony to take pictures of the pentagon building in anyway, especially inside of it, So this was an unusual and special priviledge.  You didn't know pictures are forbotten?  Yes, Yes they are - and the Capitol police will inform someone taking pictures of this while they are in an unpleasant position!  I will post them as I am able.  Of course, Computer access has been severely restricted and certainly hindered updating events here.

  As for the fair, Worshipful Brother Bill Mellon took charge of the cooking duties and closing the booth.  I hope the brothers had an excellent time helping him.

  The fair was not well attended this year for the first three days.  The economy and most especially the HEAT --over 105f -- kept people indoors, at the beaches,lakes, and rivers to stay cool.  Fair goers stayed away from the fair in droves!  Our first two days were far below income in the past, the third day was normal, and I do not have an amount for the final day Saturday.  I would guess that our final income gross was between 5 and six thousand, with expenditures close to $3,000.  Still a $2000 net is a significant income for the lodges and concordant bodies in our district.

  Well, for the final days here Virginia and I will spend one full day with our family, one full day with my son @ Ft. Meyer, and then return home very late Tuesday nite.      

August continues our Dark observance until our return to light the third monday in September at our regular stated time, place, and station.  September is "NATIONAL SPEAK LIKE A PIRATE MONTH".  Therefore it is APPROPRIATE that Septembers month will be Pirate Themed. Dress as a Buccaneer, Talk like a pirate, Get into the spirit of the event brothers.  We'll even have a hearty fare before the meeting.  Pre-Meeting Dinner pirate gruel begins @ 6PM more or less.  The Best laid plans of Masters and all, ya know -- me Buckies!  SHIVER ME TIMBERS, A Rousting Heave Ho Time Will be had by all ye Swabs!

                                          ARRRRRRRRRRRRRRRRRGGGGGGGGGGGGHHHHHHHH!

THE DISTRICT PICNIC IS AUGUST 23RD AT TAM O' SHANTER PARK IN KELSO.   THE WARDENS OF THE DISTRICT LODGES ARE HOSTING THIS YEARS EVENT.   CASTLE ROCK LODGE WILL BE PROVIDING THE BURGERS AND HOT DOGS.  PLEASE BRING A POT LUCK DISH TO SHARE.  BYOB/D/P.  --- BRING YOUR OWN BEVERAGE/DRINK/POP.

COWLITZ FAIR        UPDATE

WORSHIPFUL BROTHER SECRETARY TREASURER RICHARD HALLET HAS INFORMED ME THAT WE HAVE DEPOSITED ALMOST $7000.00 GROSS INCOME FROM THE FAIR. THIS IS THE GROSS RECEIPTS.  ALTHOUGH THIS IS NOT NEAR AS MUCH AS 2008, IT WILL BE A FEW COINS AFTER WE PAY ALL OF OUR BILLS.  BROTHER RICHARD IS BEING A COUNSELOR AT ORTHOPEDIC CAMP AND WILL NOT BE HOME UNTIL THE END OFAUGUST.  @ THAT TIME HE AND I, AND ALL OTHER INTERESTED CASTLE ROCK  BROTHERS, WILL BE ABLE TO SIT DOWN AND MAKE A FINAL ACCOUNTING OF OUR FAIR RECEIPTS.  

  THE CURRENT PROSPECT IS THAT WE WILL HAVE APPROXIMATELY $2300 TO SHARE WITH OUR BROTHERS AND CONCORDANT BODIES.......  

Hello brothers, it has been a while since this page has been updated.  I have been unundated with projects projects projects.  the beach cabin, my 83 year old mother, my three boys, 10 grandchildren, and of course, VIRGINIA!  House projects, car projects, masonic projects, community projects, projects projects projects, and more projects.  It is a good thing that I am ageless and have too much time on my hand.  lol!!! 

  The Good news is that Virginia and I are continueing to bang the rocks together and we are getting things done.  The well is in at the cabin.  The front porch project is progressing, and life is good. 

  This month will see CR 62 coming out of the dark.  This month is "National speak like a pirate month" .  As I stated at the final meeting in june, the september meeting will be a pirate theme.  All brothers practice your pirate speak, dust off your pirate apparel, and be prepared for a fun pirate night!

  We will bring up some old business, we will have a few new items on the agenda, and make a few ammouncements.

  I want to bring attention that with the new year that new officers are going to be selected.  I would like all of the brothers to talk to each other and think about the future of castle rock and the direction we want to take.

     I will have more to talk about later, but it is important for all of the Castle Rock members to keep these two things in mind,   pirate nite and the upcoming elections.

  oh oh oh!!!  We are going to have a dinner.  It will be a manly pirate dinner.... unfortunately there will be no rum or swag!  I think that it will be sausage patties, hash browns, and sausage gravey!  yum yum!   no charge, it is your grog for being a member of or ship,  ARRRGH! 

It is my  very sad duty to inform members of Castle Rock #62 that Past Master Richard (DICK) Nesbitt has passed away..  His funeral will be saturday 26th @ the Pleasant Hill Grange.  At this juncture his family has not requested a masonic funeral.

BROTHERS:

  HERE IS THE TOPICS FOR CASTLE ROCKS MEETING AGENDA:

  1. A MANLY PIRATE DINNER BEFORE THE MEETING

  2. STANDARD OPENING

  3.  MEMORIAL FOR RICHARD (DICK) NESBITT

  4. REPORT FROM "COMMITTES"

       A. WATER BILL

       B.  FAIR INCOME-$17 REIMBURSEMENT TO WB BILL MELLON

       C.   CITY SIGN

       D.   EA DEGREE(S) SCHUMENAUER, AND ??

                            NEW BUSINESS

  FORM A COMMITTEE TO STUDY THE GRAND LODGE DUES INCREASE AND RECOMMEND #62 NECESSARY RESPONSES TO THIS ACTION.

    I INTEND TO APPOINT RICHARD HALLETT, DAVE FOSKETT, AND JERRY CO0NEY

     2010 OCTOBER  COFFEE STOP.

   OTHER NEW BUSINESS

  STANDARD CLOSING.

  FELLOWSHIP

ELECTIONS HAVE BEEN HELD FOR 2009/10.  tHE UPCOMING OFFICERS ARE

WM                 JEFF CLEMMENS

SW                 JERRY COONEY

JW                  ANDY PORTREY

SEC/TRES   RICHARD HALLETT

CONGRATLUATIONS  TO THE OFFICERS ELECT!

WB jEFF CLEMMENS HAS CHOSEN NOVEMBER 28TH,  1 pm  FOR  installation.  Installation of officers will be OPEN , and  as always, at the Castle Rock temple.  Installing officers known to date are    VWB  Maynard Brent,  WB Pat Everdell,  chaplain WB Harold Mackinster, Marshal  WB Clint Hash.

WB JERRY COONEY HAS THE FOLLOWING ANNOUNCEMENT FOR THE SCOTTISH RITE.

SCOTTISH RITE SCHOLARSHIP FOUNDATION OF WASHINGTON

APPLICATIONS FOR SCHOLARSHIPS

The Scottish Rite Lodge of the Valley of Kelso and the Scottish Rite Scholarship Foundation of Washington announce the availability of college/university undergraduate scholarships for the academic year 2010-2011. A recipient must be a US citizen, a resident of the state of Washington, and attending (or intending to attend) an accredited Bachelor Degree awarding College or University in Washington full time for the academic year 2010-2011. The recipient must also be a third, fourth or fifth year undergraduate (Junior or Senior), and have maintained a grade point average of at least 3.0 for his/her college career before applying. Students from a community college bound for a four year college in 2010 are eligible. Awards are based on the funds that are available. Applications are now being accepted and the deadline for such applications is 31 March 2010. Masonic affiliation is not necessary. For more information on this program please contact the Foundation website at >   www.wascottishrite.org   <, Director Jerry W. Cooney at   jcooney@cascadenetworks.net   , 360-423-3955, or Assistant Director Maynard Brent at 360-636-1477.
Sincerely,

Jerry W. Cooney/Director, Scottish Rite Scholarship Foundation of Washington/

Valley of Kelso

HELLO BROTHERS,

  THERE ARE SEVERAL IMPORTANT DATES  COMING UP SOON.

  FIRST ON MY CALENDAR IS KELSO #94 INSTALLATION NOVEMBER 10TH, STATED MEETING.  PLEASE SUPPORT OUR KELSO BROTHERS.   UNFORTUNATELY I HAVE BEEN ASKED TO ATTEND THE RAINIER MEETING.  I WILL BE THERE IN SPIRIT.

SECOND IS VERY IMPORTANT FOR EVERY MASON IN DISTRICT 18.  A JOINT DISTRICT 18 & 19 MEETING WILL BE HELD THE 14TH AT THE VANCOUVER MASONIC CENTER. SOCIAL HOUR AND A MEETING WITH MOST WORSHIPFUL GAIL KENNY WILL START @ 5 PM  FOLLOWED BY DINNER..  COST IS $10 PER DINER.  IT IS OPEN TO BRING YOUR SIGNIFICANT OTHER.

LODGE OFFICERS ASSOCIATION.     SATURDAY 14TH @ 9am.  PLEASE ATTEND BROTHERS AS IT IS OPENED FOR ALL BROTHERS OF DISTRICT 18.  REMEMBER THAT COFFEE IS 6AM-9PM 

  CASTLE ROCK STATED MEETING THE 16TH.  IT IS ALSO MY BIRTHDAY AND I CAN'T THINK OF A BETTER BIRTHDAY THAN BEIN ABLE TO SPEND IT WITH MY BROTHERS. MEETING NIGHT IS STEP UP NIGHT.  THE ELECTED OFFICERS WILL BE PRO-TEMBBED INTO STATIONS AND PLACES IN PREPARATION FOR THEIR YEAR OF PREFERRMENT. 

  THERE WILL ALSO BE SOUP & SANDWICHES FOR A SOCIAL TIME BEFORE THE MEETING.  I ASSURE YOU NO ONE WILL BE AWWAY HUNGRY.   WE WILL BE TAKING CARE OF BUSINESS.

THURSDAY 19 IS LONGVIEW 263 REGULAR STATED MEETING AND TILED INSTLLATION OF OFFICERS.  LETS SUPPORT OUR LONGVIEW BROTHERS

                                                               THURSDAY

   I WANT TO POINT OUT THE ARTICLE IN TODAYS DAILY NEWS !   THE ARTICLE DEALTH WITH THE EXCESSIVE WATER BILL CASTLE ROCK HAS BEEN CHARGING.  APPARENTLY THE CITY WANTS TO CHANGE A "FORGIVENESS" POLICY SO WHEN THEY CHARGE EXCESSIVE AMOUNTS THEY CAN KEEP THE UNREASONABLE CHARGES.  THIS HAS BEEN HAPPENING A LOT LATELY, CASTLE ROCK HAS BEEN EXCESSIVELY OVERCHARGING.  WE HAVE BEEN WORKING ON THIS, NO RESULTS YET. 

                                                                         NOVEMBER 16th 2009

Before te lodge meeting we will have turkey soup/stew and sandwiches.   Pat will be at the lodge approximately 5pm to open the lodge and prepare.

OPENING PER CYPHER--- OPEN ON DEGREE ATTENDEES

DECLARE LODGE OPEN IN DUE FORM

FLAG RESPECT

INTRODUCTIONS

READING OF LAST MEETING MINUTES. APPROVED AT LAST MEETING

BILLS

COMMUNICATIONS

OLD BUSINESS

1. WATER BILL- INFO, CITY COUNCIL TO MEET TO RESCIND "FORGIVENESS POLICY"

2. ROAD SIGN. WB HALLET WAS TO SEND LETTERS TO AREA ORGANIZATIONS

3. COMMUNICATION TO TENINO LODGE TO PERFORM DEGREE WORK FOR RUSSELL PICKETT.

A. DISCOVER DATE SO CASTLE ROCK MEMBERS MAY ATTEND IN A SHOW OF SUPPORT.

4. PROGRESS OF PETITIONERS.

5. LETTERS TO LODGES FOR SUPPORT AND SHARE OF DISTRICT PICNIC EXPENSE.

OTHER OLD BUSINESS.

NEW BUSINESS.

LOA MEETING FOR ELECTION OF OFFICERS, DECEMBER

REPORT ON DISTRICT MEETING 18 AND 18 SOUTH.

OTHER NEW BUSINESS.

ILLNESS & DISTRESS

ANNOUNCEMENTS:

GOOD OF THE ORDER

ANYTHINTG IN THE WEST, SOUTH-(REFRESHMENTS). FURTHER ON THE SECRETARIES DESK.

RETIRE THE FLAG.

CLOSING

FELLOWSHIP.

INSTALLATION  NOVEMBER 28TH, 2009

nWell bothers,  Installation went well with oly a few hitches. The new officers to govern castle rock lodge were duly installed by VWB Maynard Brent and WB Pat Everdell.  The new officers are

  master:                       Jeff Clemmens

  Senior Warden:          Jerry Cooney

  Junior Warden :          Andrew Portray

  Senior Deacon:           Elton Strange

  Juior  Deacon :            Robert Batson

  Secretary Treasurer:  Richard Hallet

Chaplain:                      Jerry cooney

  Marshall:                      Dean Vodkrot

  Steward:                      Andrew Bodkrot

  Tyler:                           Rob Malis