.It is a new year brothers and Castle Rock #62 has brought it in with true masonic fellowship.  It has been noted that the last meeting presided by worshipful Brother Pat was held on his birthday, November 16th.  The First meeting of Worshipful Brother Jeff Clemmens Governship was held on his Birthday December 21st.  It may be the only time that a master has surrendered his position and a new master entered their position on their birthdays in consecutive months.  It might herald in a new age of brother love and affection.

The Lodge is working out a few kinks in our operations and working to smooth out and settle goals set the previous year.  Among these are the excessive water bills imposed by the city of Castle Rock, and the placement of a sign denoteing Castle Rock #62 as a member of the Castle Rock Community. We are striving to promote the presence of the masonic institution into our community and to build on our fraternalism.

  The January meeting went well.  A discussion ensued concerning the web site and will be addressed at the next stated meeting in February.  Old business was discussed and progress was made toward our goals.

  Several items were brought up which were deferred to the temple board corp as it was not Lodge business. 

  The next stated meeting will be February 15th .  .

W.M. Jeff Clemmens has stated that there will be a pre meeting Refreshment at the next meeting February 15th.  It will begin ROUGHLY about 6 pm.....  Fellowship until lodge @ 7:30 when the gavel sounds in the East.

   HERE IS THE SCOOP AS OF FEBRUARY 2 FOR THE FEBRUARY 15TH STATED MEETING.   THIS IS IMPORTANT TO HELP OUT JOBE''S DAUGHTERS. 

  6: PM A BOX LUNCH SOCIAL.  THE GIRLS WILL "HOST" THE BOX LUNCH SOCIAL AND AN ACTIONEER WILL HANDLE THE MEAL SALES.  YES HAROLD, THERE WILL BE MEATLOAF AND MASH POTATOS (NO "E"). 

THE GIRLS ARE REALLY LOOKING FORWARD TO THIS EVENT.  A GOOD TIME WILL HAD BY ALL!   BRING YOUR APPETITE  AND SUPPORT OUR JOBIES!

Hey Brother Jeff, and Worshipful Master,

It seems that we should give everyone the opportunity to come contribute and have a great time at this Masonic Sponsored Event. So please, forward this to all you know, especially brothers and there families, and persuade them to do the same in hopes of making this a hugely successful event. It takes participation to achieve progress.

  People ask "who are the masons?" and "are there many of em?" Well lets show em! We have room for just over 300 guests. The public will be there learning who we are and how many of us there are. So PLEASE ATTEND and be on your best Masonic behavior. LETS PACK THAT HOUSE!

SEE PRESS RELEASE:

Celebrity Comedian Ron Osborne

Coming to Kelso Theatre Pub

Ron Osborne has been sharing his hilarious blend of Stand-Up Comedy and Improvisation with audiences around the World for over 20 years! AND NOW HE'S COMING HERE!

He won the world famous Seattle International Comedy Competition, has appeared in over 100 TV commercials, (including 2009 Super Bowl Commercial), hosted his own TV show and has worked with stars like Drew Carey, Sam Kinison, Ron White and quite a few more. He is known for being the King of Improv, and you'll know why once he has you laughing hysterically. We are very fortunate to have him coming here to our area to be a part of this fundraising event. Come support a local cause. And enjoy a well needed laugh! Check him out on the web at www.ronosborne.com.

Now you can see him right here in the Longview Kelso area on Feb 19th at 9pm. The Kelso Theatre Pub will be hosting this hilarious event, and is located at 214 S Pacific Ave. in Kelso WA. Tickets are just $15, but can be purchased in advance for just $10 at "The Kelso Theatre Pub", "Your Market Place", located on Commerce, or "Just Music and Movies" located in the Triangle Shopping Center.

Get there early, as seating is general admission, unless you call (360)-270-9391 for VIP/Group Package details. Packages are already selling and are expected to sell fast. So call soon to get taken care of, if you think that you deserve special treatment. Mr. Osborne will be signing autographs and be available for some photo opportunities with fans after the show during the meet and greet session.

Junior Warden

Castle Rock Lodge #62

Andrew Portrey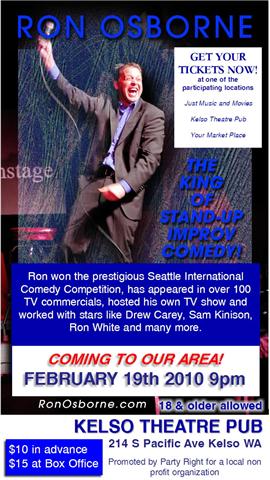 STATED MEETING MARCH 15TH .   CORN BEEF AND CABBAGE DINNER BEFORE THE MEETING THANKS TO WORSHIPFUL BROTHER (MASTER OF RIDGEFIELD DAYLIGHT).  BEST TO BE AT THE LODGE AROUND 6 PM.  NO CHARGE TO THE BROTHERS.  COM AND ENJOY A  WORSHIPFUL  BROTHER ST. PATRICKS DAY REPAST!

MARCH 20TH, 10 AM CASTLE ROCK WILL BE HOSTING A FELLOWCRAFT DEGREE FOR LONGVIEW 263.  LET'S HAVE A GOOD TURNOUT TO PASS OUR BROTHER ALONG AND STRENGTHEN OUR FRATERNAL BONDS WITH LONGVIEW LODGE #263



WORSHIPFUL BROTHER RICH HALLETT REPORTS THAT THE COFFEE STOP NETTED $500 FOR THE WEEKEND

it was reported that the comedy event netted Castle rock $500.  discussion was favorable to holding future events.

  The mason events page has information about past meetings.   you can access that page HERE.  
  The past several meetings have been great with dinners before, lots of work accomplished during the meetings, and terrific fellowship following.    On the event page, as you see, talked about those meetings and also Grand Lodge which is occuring  the 10th, 11th, & 12th @ Great Wolf Lodge.   Castle Rock brothers known to attend at this junction is WB Rich Hallett, WB Pat Everdell, WB George Roberts, VWB Dave Foskette.   Look to the photo page and the Event page for following the event.  If there is Wi-Fi at the hotel we just might have some live feed.

The next stated meeting June 21st will be preceded by an OYSTER STEW repast.  WB :. Pat will provide the GASTRO INTESTINAL EPICURIAN GOURMET DELIGHT.  Perhaps, just perhaps if the wind is fair and the tides are gentle we just might net some GARLIC BREAD..... No Promises.  Dinner is being served @ 6:30.   No Charge but Donations are appreciated

Worshipful master :. Jeff and WB Richard are currently in Wenatchee for the Grand Session.  I understand that there is quite a number of brothers attending and assisting.

jUNE 16TH WE COMPLETED A SECOND BIKES 4 BOOKS PROGRAM AT CASTLE ROCK ELEMENTARY.    THE CHILDREN WERE ENTHUSIASTIC AND UNDERSTANDABLY VERY VERY EXCITED OVER THE PROSPECT OF A NEW BIKE AND HELMET.   VWB DAVE FOSKETTE, DEPUTY OF THE GRAND MASTER FOR DISTRICT 18, WB PAT, WB HAROLD (NO SPECIALS) McKINSTER, AND B. ANDY PORTREY WERE IN ATTENDANCE.   BROTHERS, WHEN I WAS TOLD THAT THREE OF THE RECIPIENTS WERE A NEEDY RECIPIENT I COULDN'T HELP HAVING A TEAR.  MOST WORSHIPFUL GAYLE KENNY MUST HAVE RUBBED OFF ON A FEW OF US, BUT TO KNOW HOW GRATEFUL THESE CHILDREN ARE, AND HOW IT FULLFILLED A NEED MADE US PROUD TO KNOW THAT ALL OF THE BROTHER HAD COME TOGETHER TO MAKE THEIR DREAMS COME TRUE.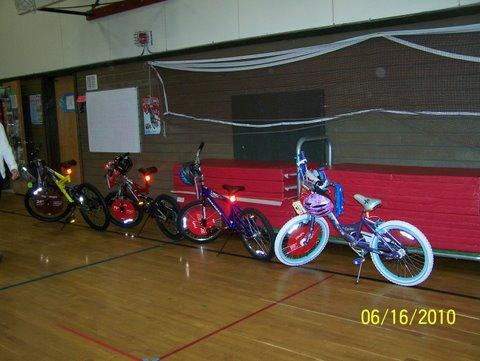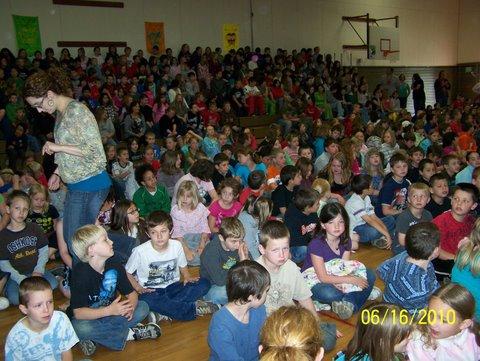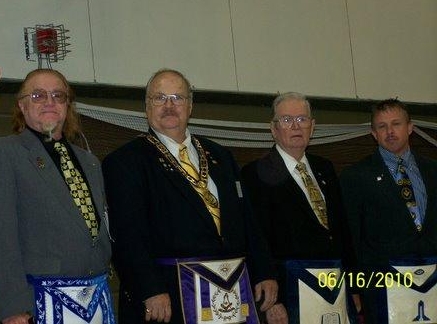 WB PAT       VWB DAVE       WB. HAROLD   B. ANDY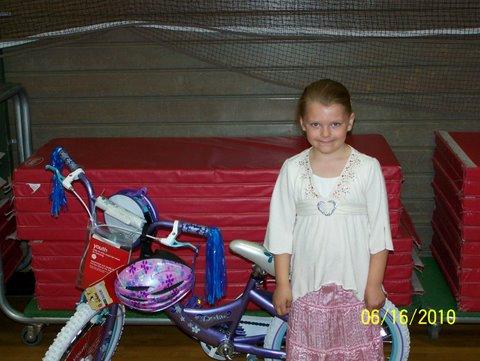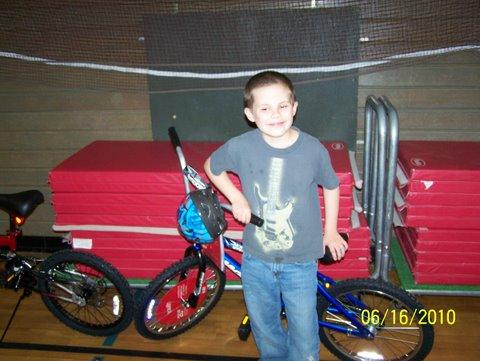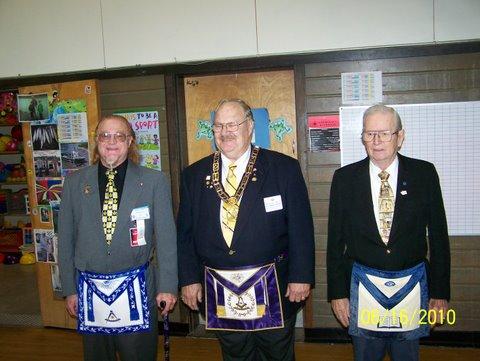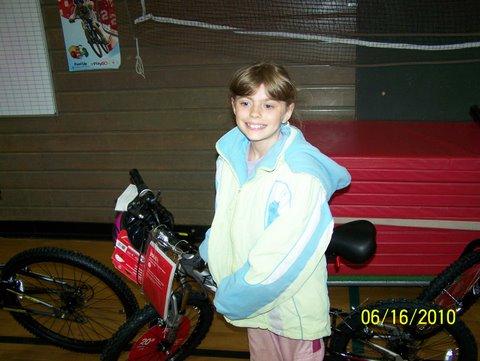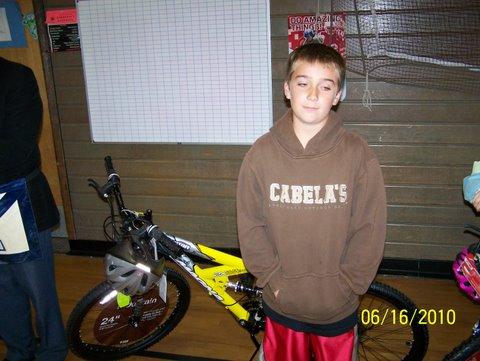 BROTHERS, WE HAD A GREAT TIME, THE STAFF AND THE STUDENTS WERE SO APPRECIATIVE.

WHEN WE WALKED IN THE DOOR, WE WERE ABSOLUTELY MOBBED BY THE CHILDREN.  WOW!

Brothers,  Castle Rock #62 is now dark but our activities and community services continue.  Please remember our 5th tuesday potlucks at Kelso Lodge #94 @ 6:pm and our District Picnic currently scheduled for august 21st.

MOST IMPORTENT :   The CowlitZ county Fair is coming up FAST FAST FAST!!  We Need a lot more people to help of man the booth.   Please click THIS LINK  for the fair schedule.  Call  or e-mail W.B. Pat Everdell to get on the schedule.  His number is bolded printed where no phone numbers have gone before!  
WOW,  The fair came and went fast.  it was hectic, fun, exhausting, TASTY, and EXCITING.  The WEATHER Cooperated bein in the low 80's and the high 70's.  Saturday was warm and it did rain, fortunately it did not dampen the enthusiasm of the of the fair goers.  The rain cleared and the weather stayed beautiful till the very end.   It is a pleasure to report that the booth did much better than last year.  

  There were a few changes in our menu and the Temple Boards equipment.  The Dogs were cooked to perfection and looked appetizing.  It made preparing tem a BREEZE and cut down on the prep time.  We sold more than Twice as many dogs as last year, and the cooker has easily paid for itself!  We have big plans for our equipment at future Castle Rock City event such as the Annual Vintage Tin Car show and Mountain Mania. 

Several  poor selling items were dropped and a new dinner menu added Chicken Strip Basket.  This was a HOT HOT HOT SELLER.  No other booth was selling them at the fair and Castle Rock Cleaned up!  The Second piece of equipment was a speedy HOT FRYER for the chicken Strips.     a #300 basket with fries and three healthy chicken strips was flying out the door for $6.00   Great Work by WM Jeff and his Lady Stephanie.

  We also received SEVEERAL  inquiries abot Masonry and WB Pat Handed out his Ever Present Petition to a potential Candidate. 

  This was a VERY SUCCESSFUL EVENT THIS YEAR.  CASTLE ROCK #62 wants to extend our DEEPEST APPRECIATION to EVERYONE who had a part in making this a success!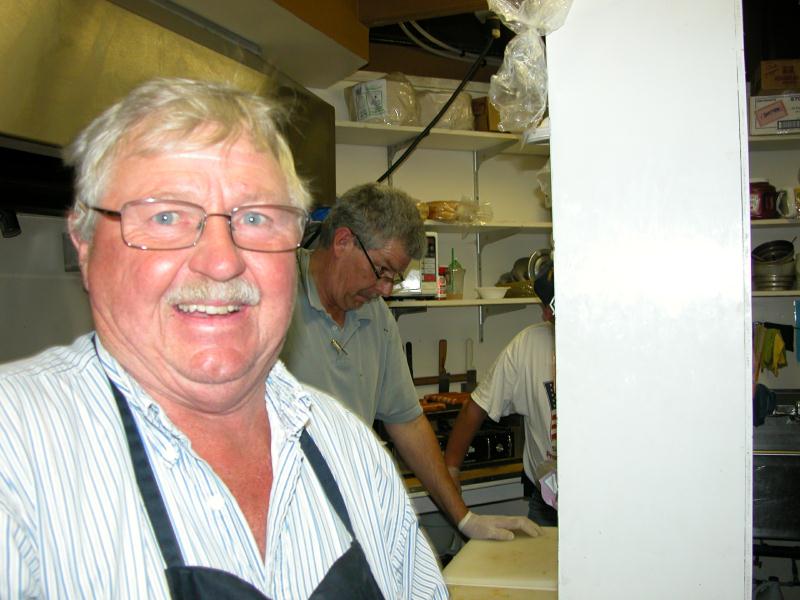 WB. Jim collins mans the assistant cook position while WB Bill is in a BURGER BUZZ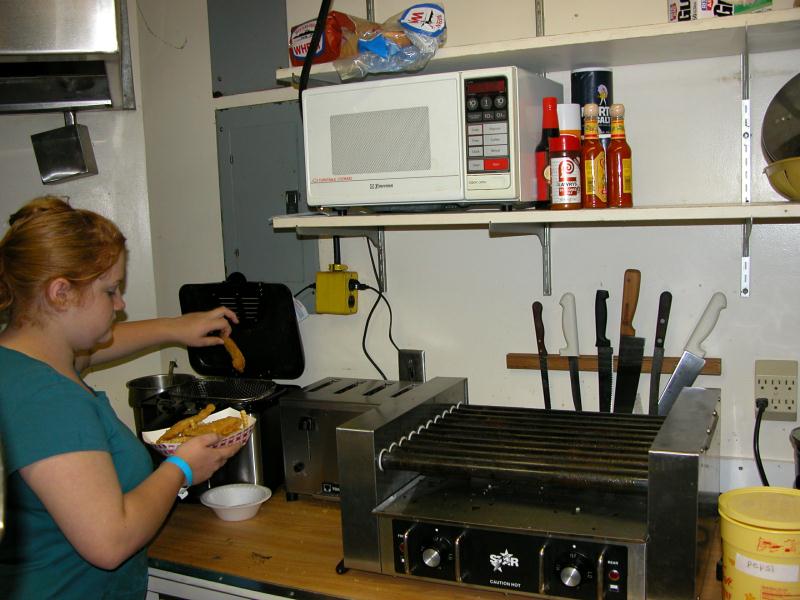 Olivia Nordquist builds a chicken strip basket with the help of our new fast fryer.  On her right is the hot dog cooker.  The fair was winding down and we were SOLD OUT of HAMBURGERS & HOT DOGS.  

It's that time again, and we expect a very big turn out this year. After hearing that out of the whole district, less than 60 guests arived at last years BBQ, i decided to donate an entertainer as to create a draw, as if Amazing BBQ isnt enough. lol. I searched to find the perfect individual for this task, and am pleased to say that you wont be disappointed. Guy Live is a well known performer and entertainer as a musician, actor, and most importantly, a magician. Being men of mystery, this will fit right into our day and leave our guests with the feeling that there's something magical about those Masons. And remember, this is a "friends and family of members BBQ". Great opportunity to introduce each other to our families, but also an opportunity to make an impression on potential candidates, and those friends and family members who help us be the Masons that we are. So start inviting your friends and family. The fun begins on Aug 21st at 2pm and will happen until about 6pm. BBQ will be served by 3pm. Our magician will be amazing guests, starting at 2pm. This will be a lot of fun, for all ages. We will be providing all essentials (Meat, dishware, some side dishes)  but would surely appriciate having side dishes brought. Deserts are good too. Please contact me to make sure that we dont bring twenty potato salads. But twenty dishes would be nice. Also please confirm, if you can, that you are coming so as to better supply the event.

     Thanx brothers,

  Vice President LOA       Andrew Portrey

Thanks to all of the Brothers in district 18th, and other jurisdictions for attending our get together at Tam-0-Shanter Park.  The turnout was excellent!  There was fellowship and a lot of very good food.  All of the buffet dishes really filled out the menu.  Personallly, I was stuffed to the point of being miserable and there was stll a lot of picnic goodies on the table looking delicious

  THERE ARE TWO IMMEDIATE ITEMS TO BRING UP FOR THE UPDATE TO TE TRESTLE BOARD.  

  #1.   The District Family day Steam Train ride is scheduled for Saturday, august 28th.  The group will meet in front of the Kelso Lodge @ 8am and depart shortly thereafter!   The Train leaves the  ELBE STATION @ 10am.   the cost is $18 for seniors and $20 for adults.   The directions, prices and schedules for Elbe Steam train are available here:  http://www.mrsr.com/gettinghere.html

Contact W.M:. CLINT HASH for a SPOT.

          431-8986

THE TIME IS SHORT BROTHERS>  THIS WILL BE A FUN FAMILY OUTING FOR OUR MASONIC FAMILY!

#2.  Castle Rocks Next Meeting is the Third MONDAY in SEPTEMBER.  There is a lot of business to be conducted including a report of the Fair Restaurant.  The important business topping the list is

ELECTIONS

    YES CASTLE ROCK BROTHERS,  WE WILL BE CONDUCTING THE BALLOT FOR NEW OFFICERS AT THIS MEETING.  We are coordinating with Longvew and other lodges so the brothers are able to fill officer positions without conflict in a brother lodge.   Think about, talk about, and then VOTE on your CR #62 officers for the 2011 year.

Saturday, August 28th family and friends of District 18 had a fun time in Elbe, Wa.    Approximately 24 members met @ the Mt. Rainier Scenic Steam Train Station.   Everyone had a great time.  A guest of Longview Worshipful Master Clint Hash, was Greg Keller and his wife.  The ride wound through the scenery, woods, mountains, rivers and streams.  At one point, the train slowed dramatically and volumns of Black smoke issued from thetrains stack.  Apparently someone had greased the tracks and the wheels slipped quite a bit.  The slowdown was brief and soon the train was moving along at its' normal trot. 

  At the turn-round, riders were able to stretch their legs and view some of the turn of the century artifacts.  In a park setting a SERIOUS BBQ was available for those so desiring.  

  There were quite a few amenities Available @ the Elbe Train Station.  Diner Car Restaurants, souviniers, and for those desiring a HOBO night out, old caboose motel rooms are available for a complete train experience. 

  Later many participants met at the OLD CAFE located in the old MINERAL Lake school.  The one lady operation was overwhelmed with the number of us all at once, but never fear, everyone in the group was helping out.  Georgia Brent Helped take orders, Greg Keller helped in the kitchen, and everyone else helped serve.  A great time was had and led to the discussion of other friends and family outings.  Among them was a Lebanon Christmas trip, and an Oregon or Washington Winery tour.  Got any ideas?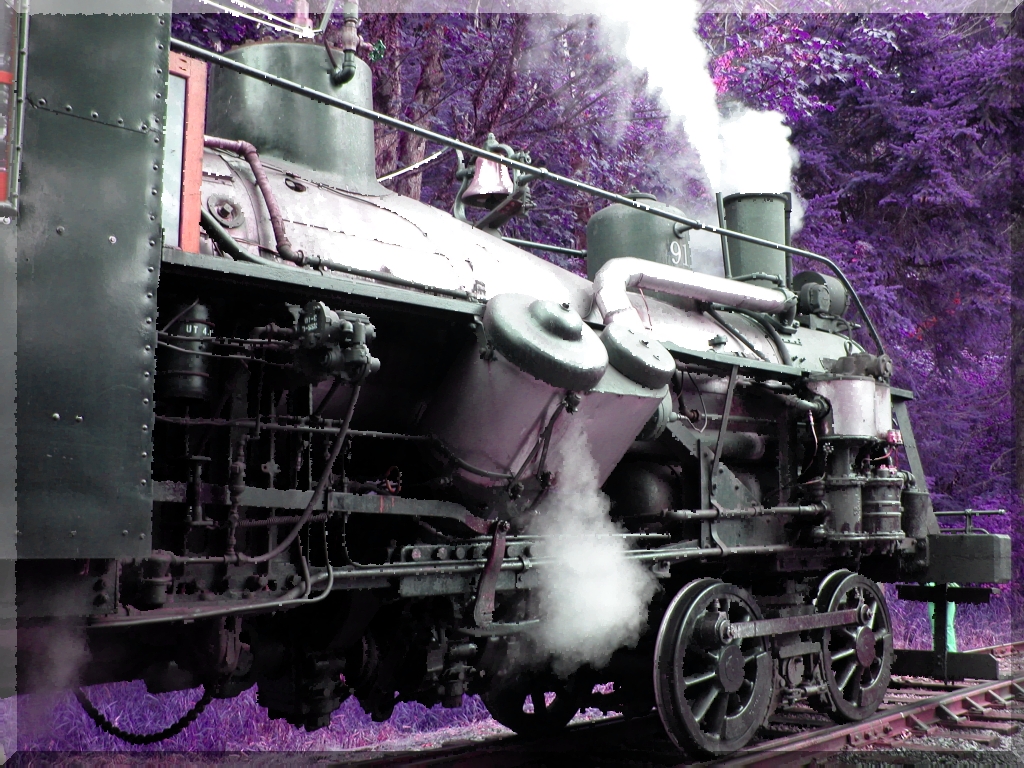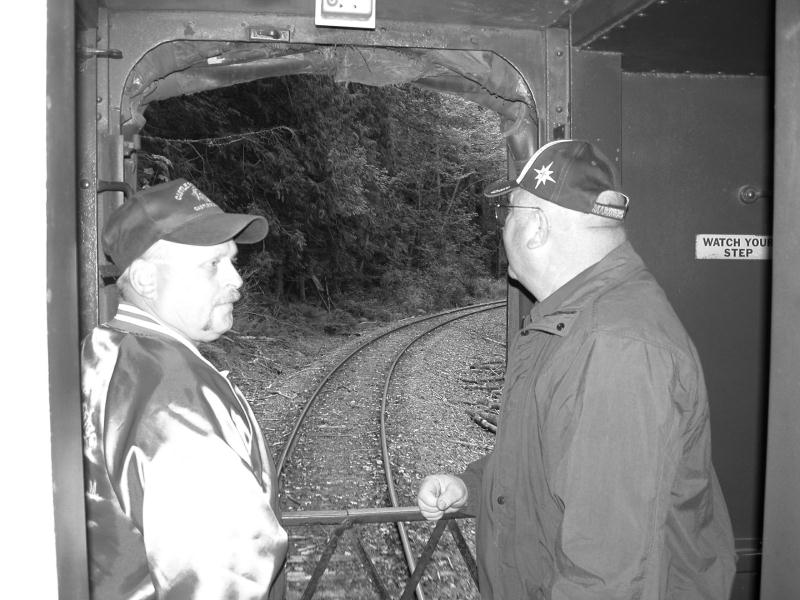 W.M:. Jeff and V.W.B. Gary Boyd  step into the past.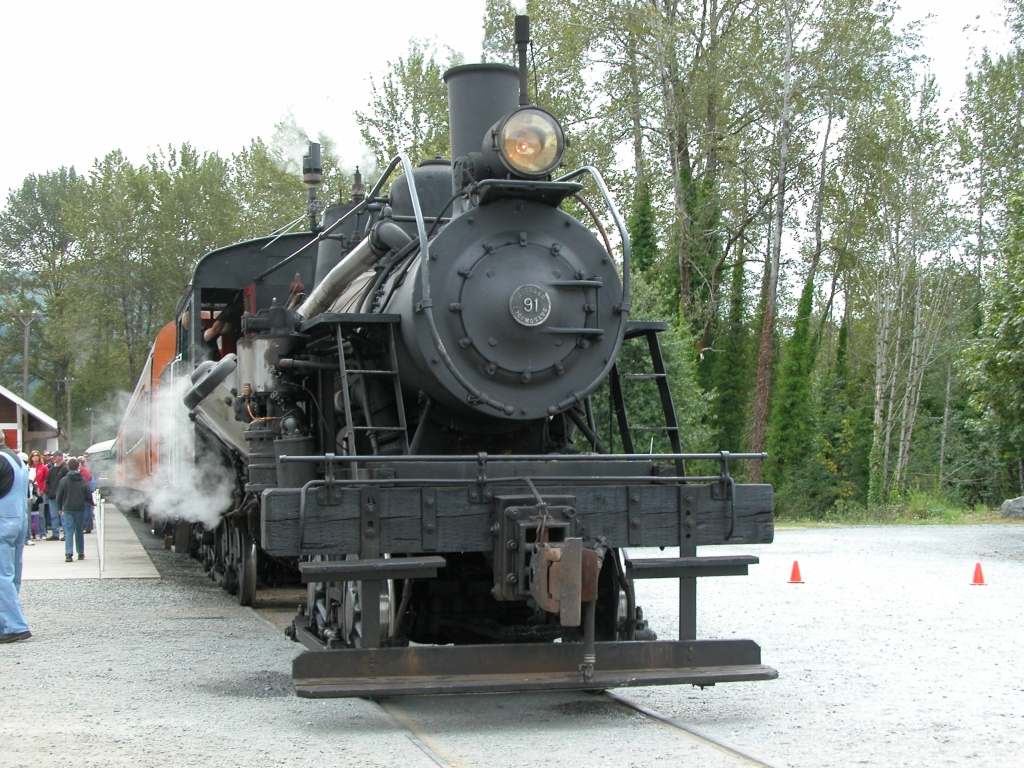 ALLllllllllllllllll

ABOARD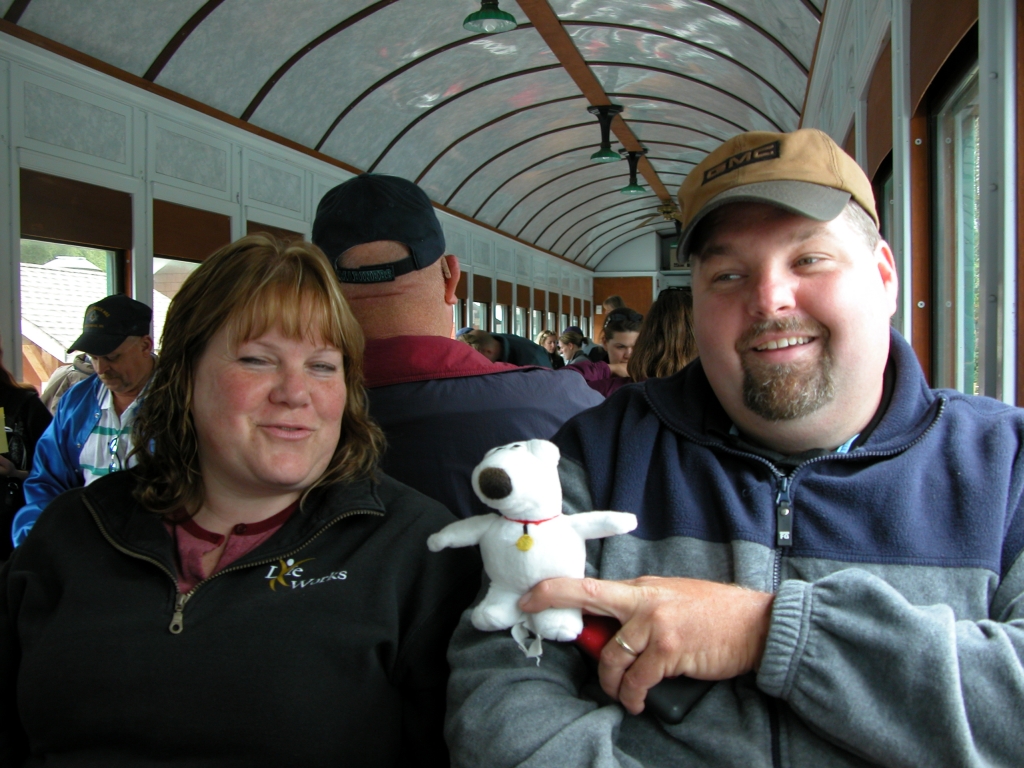 Our friends the KELLERS enjoy the ride with W.B. Pats' Mascot, BRIAN

First meeting out of the dark had a report on the Cowlitz fair restaurant.  We did much better than last year.  The weather cooperated and did not chase fair goers away. 

W.M. :. Jeff proposed expanding the bikes for books program.  The Friends of the library jumped on the bikes program bandwagon and asked the Castle Rock Masons to participate.  We thought it was a good idea, helping the community AND getting our name out there.

  A memorial for :.M.W. Jeff Ensworth was held.  Parting from routine, the entire lodge recited the lords prayer.  It was a moving experience.

  Elections were held.  The new officers for 2011 are,

:.W.M. Jeff Clemmons

    S.W.  Pat Everdell

    J.W.   Elton Strange

    Secretary/Treasurer  Richard Hallett

An Open Installation is tentatively set for November 6th @ 2pm.

Brothers, we have an opportunity to dedicate our commitment to the three principles of Masonry by supporting our entered apprentice brother Russ Pickett.  We discussed this at the last lodge meeting and urged a contingent of brothers to accompany Russ  to Centralia.    At this time Russ is not available to attend the centralia meeting BUT it appears that We have an opportunity to attend Olympia #1 this Friday, 15th with B. Russ.   Our group would leave Castle Rock Lodge @ 6 pm.   We urge all brothers to attend and show our commitment to Friendship, Brotherly Love, and Truth.

  Here is a message from WM Jeff regarding our Brother Russ Pickett and this opportunity.

    Russ Pickett cannot make it to centralia on the 18th but he can be up in olympia on the 15th. Rich got ahold of him and he is willing to go.  I unfortunately cannot make it so any Brother that can would be very much appreciated. Due to the turn of events we will have lodge at CastleRock on the 18th. We will discuss some visitations to lodges so pass the word about lodge.  Thank you WM Jeff Clemens

Brothers,

   It is with a VERY HEAVY HEART that I share this.  Richard and I have been persistent in contacting Russ for accompanying and supporting him with a visit to Centralia and/or Olympia.  Brother Russ left a message on Richards recorder today with a sad testiment to Masonry.  B. Russ said he appreciated the efforts & support of the Castle Rock Brothers, HOWEVER his experience with the other lodge brothers, most notably Centralia has made him feel "uncomfortable" with masonry. 

  Apparently brothers we have lost this good man due to the actions of one brother refusing Russ to participate in lodge.  This is a lesson we can learn from and continue to improve ourselves in Masonry.   I will post this on the trestle board. 

  Regrettably, Pat.

Installation set for Nov. 6th has been postponed due to schedule conflicts for worshipful master / elect Jeff Clemmens.   So there will be no activity Saturday 6th @ 2pm. 

  I will update the new time ASAP once it has been established and scheduled.

INSTALLATIONS have been the norm for the month of December.  Saturday December 4th saw a double installation for Longview and Kelso lodges.  Perhaps history has been set with a father son double master event.  John Kohler Senior was installed master of Kelso #94 followed by John Kohler Junior installed as master of Longview $263.  December 7th was Woodland/Kalama #17 installating Master Ron.  Friday December 10th will find Wayne Brown installed Master of Little falls #117.  Finally Castle Rock Will re-install Jeff Clemmens Master on December 20th during their regular stated meeting.  Let us all support our District Lodges during this month of Installations and of course good cheer!  MERRY CHRISTMAS TO ALL!

BIKES 4 BOOKS WENT OFF WELL FOR THE SCOTTISH RITE AT WALLACE GRADE SCHOOL..  REMINDING THE BROTHERS TO ATTEND cr #62'S INSTALLATION MONDAY DECEMBER 20TH.  The installation WILL BE TILED.

Worshipful Master Jeff was blessed with the flu bug and was not available to be installed.  By Code there was no installation.  Hopefully Jeff will be rarin' to go and has tentatively planned installation for the next regular meeting in January.  The Washington Code says installation MUST be complete by the end of January, so we still have ample time to put Jeff in the East.

  Brother Elton Strange served up a great repast of chili, chiliburgers, chilicheese burgers, and Hamburgers.  Elton was impaired by a recurrence of painful gout but pushed past the pain and did an outstanding job! 

  WB Jerry Cooney stepped up to the east and performed admirable.  In conclusion, the meeting was filled with fraternal brotherhood, excellent food, and good works.

BROTHERS, This is the time of year that we give thanks for all the blessing the Great Architech of the universe has bestowed on all of us.  Enjoy this time of year with your loved ones and remember to give thanks to who these wonderous gifts have flowed from.  Finally my brothers,

MERRY CHRISTMAS AND JOYOUS NEW YEAR

.MERRY CHRISTMAS AND JOYOUS NEW YEAR

WB Pat Everdell met Dale Alapateri while both were delivering packages at the UPS on Tennant way.  Dale Shared that he has RECENTLY had a shift change from nights to days and is looking forward to Attending lodge again. Brother Dale, all of your Castle Rock Brothers are looking forward to sitting in Lodge with you soon!